We provide comprehensive imaging of the body employing all modalities including Computed Tomography (CT), Magnetic Resonance Imaging (MRI), Ultrasound (US),X-Ray Radiography, Fluoroscopy, Nuclear Medicine, and Positron Emission Tomogram (PET). The equipment at the Houston Methodist system is industry-leading, including: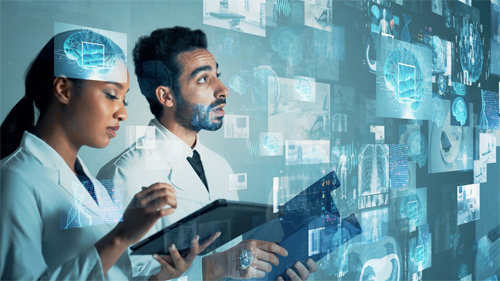 MRI - majority of the scanners are high-field strength or 3-Tesla, providing exquisite details at fast speed. The wide-bore MRI configuration, many of which are 3-Tesla, greatly improves the patient experience. A new open MRI unit was also recently installed to provide comfort to patients with claustrophobic concerns while retaining best-of-class image quality.
CT – top-of-the-line fast scanners from Siemens and General Electric with best-of-class dose-reduction techniques to provide fast and detailed studies with dose range beyond the industry standards (American College of Radiology) for long-term patient safety.
As a large physician group working at Houston's premier tertiary referral medical center, we provide highly subspecialized services that aim to bring the highest quality of care to our patients.
Our radiologists are highly experienced and fellowship-trained at many of the nation's top medical institutions. As primary radiologists at the top medical institution in Houston, we work side-by-side with our clinicians to serve the Houston community as well as referrals from other cities or countries.

We provide the highest level of image interpretation with our dedicated team of MSK fellowship-trained radiologists. We work closely with orthopedic surgeons and attend musculoskeletal tumor boards and arthroscopy-imaging correlation conferences. As part of the Houston Methodist Bone and Joint team, we also are the primary radiologists for our hometown sports teams including the Texans, Astros, and the Dynamo. In addition, we provide imaging and interpretation for the many elite artists of the Houston Symphony, Houston Ballet, Houston Grand Opera, and other performing artists from around the globe, through the Houston Methodist Center for Performing Medicine.

Our neuroradiologists at Houston Radiology Associated are all board certified with fellowship training and subspecialty certification in imaging and diagnosing diseases affecting the head, neck, brain and spine. Drawing on decades of diagnostic and procedural experience and trusted relationships with our clinical colleagues, we offer the latest in advanced imaging techniques and procedures. Our mission is to provide the highest quality of patient care through our radiology examination reports, procedures, interdisciplinary conferences, and teaching of our radiology residents through our residency program.

All of our nuclear medicine physicians completed dedicated subspecialty training at one of the nation's top Nuclear Medicine training programs. Our PET-CT scanners offer state-of-the-art PET imaging with FDG for a wide variety of cancers, and additionally for brain imaging (primarily for the diagnosis of dementia). These scanners are also used to perform newer types of PET scans, such as Ga-68-DOTATATE (NetSpot PET) imaging of neuroendocrine tumors and F-18-Axumin PET imaging for prostate cancer. We work closely with Methodist oncologists both in person and in weekly hospital-wide tumor boards. Our new gamma cameras and SPECT-CT scanners are used for all standard nuclear medicine studies. In addition, we perform a large number of radioisotope therapies for thyroid cancer and hyperthyroidism, as well as some treatments for prostate cancer.